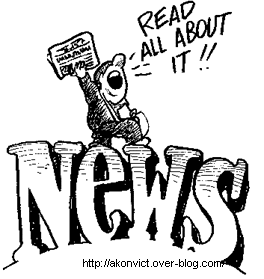 16th November 2006

Since Tuesday , the blog had more than 20.000 visits , thanks to everybody!!!

You can now watch new Akon video "I wanna f*ck you" featuring Snoop Dogg : go watch it and tell me what do yout think about it in the comments.

I added almost all the lyrics from Akon's new album Konvicted , you can check them in "PAROLES / LYRICS.

I updated the Charts.



9th November 2006

One more week to wait for Akon's new album "Konvicted".

The official Akon's website http://www.akononline.com/ is online since yesterday : check it.

The remix of the song "Smack that" will on next Eminem's album "The re-up" which will be out 5th December, there will be rapper Stat Quo in the remix.

I added the lyrics of the song "All my life" (feat Styles P), the song will be on Styles P new album "Time is Money", the album will be out next month.

I updated the charts & the Akon's T.V Apparences : go check it!!!

You can vote for your favorite Akon's song in the album "Trouble" in the survey.



3th November 2006

Akon's Konvict clothing line soon?
In a interview Akon said "
That will come out first thing February. It's called Konvict Clothing. And that's like the straight streetwear, like denims, hoodies, t-shirts, caps. You know what I'm saying? And then Aliaune is like the upscale version of that line, which will be servicing all the females and all the upscale men with the blazers and the real expensive denim jeans, real expensive, you know what I'm saying. It's more upper and just high-end line stuff."
If you want to see the full interview click here.

I added some songs that you can listen full length in "Collaborations/Featurings" , here the list :


2 Pac feat Akon - Ghetto Gospel (Dj oone remix)
Akon feat 2 Pac & Notorious B.I.G - Ghetto (remix)
Akon feat T.O.K - Ghetto (Remix)
Booba feat Akon - Gun in a Hand
Kaî (Block Royal) feat Akon - Back Again
Styles P feat Akon - Can u believe it?
The Beatnuts feat Akon - Find us
Vybz Kartel feat Akon , Shabba banks & Sizzla - Soul Survivor (Remix)

Tell us what do you think about the songs in the comments.


27th October 2006

We have to wait some weeks before Akon's "Konvicted" is out.

"Konvicted" album isn't out yet but Akon's single "Smack That" is a Hit in U.S.A and his second single "I wanna f*uck you" is going to have the same success : go to "Charts" section to see the Akon's single evolution

Akon has recorded on Nicole
Sherzinger's (lead singer of PCD) album , her album will be out in 2007.

Now you can listen more songs full length on http://akonvict.over-blog.com/ , here the list :


Akon ft P-money - Keep on Callin
Akon ft Styles P , Fat Joe & Rick Ross - Watch Out

Baby Bash ft Akon - Im back
Baby Cham ft Akon & Alicia Keys - Ghetto Story
Bennie Man ft Akon - Girls
Flashy (Ruff Ryders) ft Akon - Stay Down

Juvenile ft Akon - Im so Fly

Obie Trice ft Akon - Snitch

One Chance ft Akon - Private (Konvict Muzik remix)
Papoose ft Akon - Go to War
Play N Skillz ft Akon - Come Home

R
Kelly ft Akon & Sean Paul - Slow Wind
Rasheeda ft Akon - Let it Clap
Rick Ross ft Akon - Cross That line

Savage ft Akon - Moonshine

Young Jezzy ft Akon - Soul Survivor
YoungBloodz ft Akon - Presidential (Konvict Muzik Remix)


Go to "Featurings" section and listen them, I will add more songs soon...

I added a survey , go vote!!!



19th October

Good news:
Akon's Konvicted album will be out 14th November!!!!
The 2nd Single off this album is "I wanna f*ck you" featuring Snoop Dogg.

Beenie Man was nominated at the B.E.T Awards for the "Little X" Award (Girls ft Akon)

You can watch were Akon is in "Konvict Tour" : go check it!!!

I update the "Charts" : go to see the evolution of Akon's Singles.

Thursday 12th September

Akon produced a song with Gwen Stefani for her upcoming album which will be out fall 2006.
Akon will be on upcoming Bone Thugs-N-Harmony's album , this album will be out in the next months.

I added "Go to war" lyrics with Papoose , you can check it in the "Lyrics" part.

The mixtape "A star is born : volume 2" by Dj Enyce is out : you can buy it via some websites , you can watch the covers in the "Cd's" Part.

I updated the "Charts" , you can check it to see how evolve "Smack that" & "I wanna f*ck you" singles.

Akon's Konvicted cover & tracklist are available in the "Cd's" part.

T-Pain is on upcoming X-Zibit's album "Full Circle" , the song is "On bail" with The Game & Daz : You can listen it on the player on the top of the page.


Saturday 07 October

Welcome to all the English speakers!!!!!



I received a lots of comments with a lot of people who asked me to translate the pages of this blog because they could not understand french language so I decided to translate the blog in english.
If you don't understant something , tell me it in the comments in the low of the page.


This blog is 10000% about Akon & Konvict Muzik artists , here you can find Newz, Lyrics, Tunez, Music Videos , Pictures & a lot of others things.


On each page of this blog there is a U.K flag , click on it to have english version of the page.

Akon's "Smack That" is actually #7 on Billboard Hot 100 , and his song "I wanna f*ck you" ft Snoop Dogg is #(...click here for the continuation)

Myspace Akon :

Create your "Smack That" SPORTS music video :
what up yall? Do you have any amazing sports footage of your favorite team? Check out the SPORTS edit of AKON's "Smack That" and create your own MUSIC VIDEO of a "Smack That" highlight reel of your favorite sports team. Start posting on YOUTUBE.com. Be sure to use "Smack That" sports edit as your music bed. SRC and AKON will be selecting the best videos and highlighting them on his myspace page. Prizes will also be awarded. Show us what you got!
If you want Akon's "Smack That" Video, ask me it via the comments (don't forget to write your e-mail ).

Tell me what do you think about this blog in the comments...
The lyrics you can check on this blog:

GANGSTA BOP
I WANNA FUCK YOU (FEAT SNOOP DOGG)